Perennials for Shade Gardens
Astilbe – Astilbe flowers look like plumes and come in pink, white or red. They prefer some moisture and do well in shady areas. Plant in a shade border, woodland garden or in mass as a groundcover. Good fresh or dried cut flower. See Astilbe for more.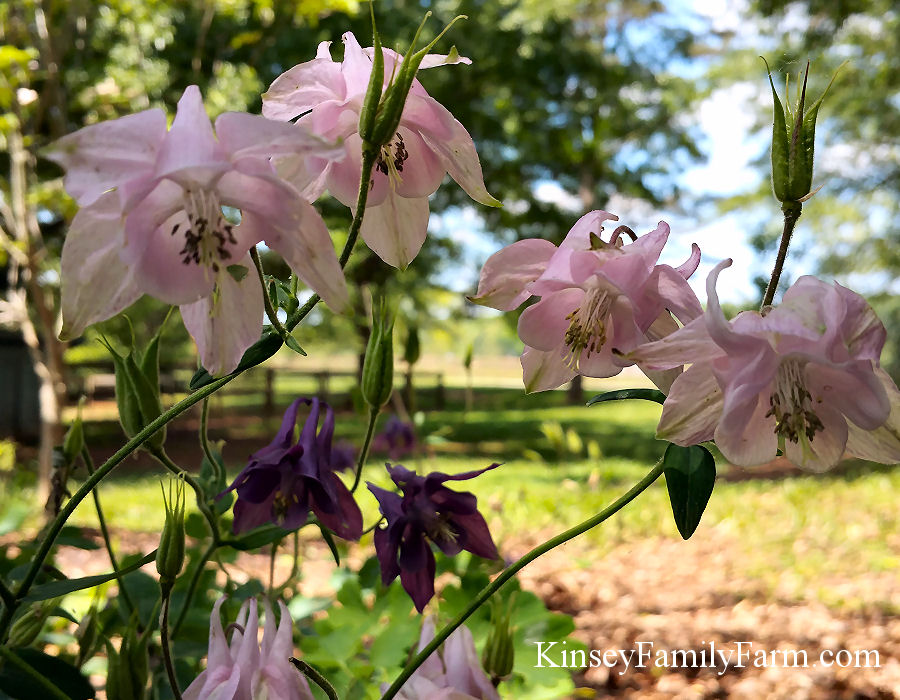 Columbine Aquilegia – A perennial which flowers from mid-spring to early summer. Columbine has delicate, bell-shaped blooms and rounded foliage. Colors range from light pastels, red, orange, yellow or purple.
Fern – Ferns are a long standing tried and true perennial for shade gardens. Consider growing them in masses, not much can be more striking or dramatic than a wide area of ferns planted in groups. See Ferns for more.
Foxglove Digitalis – Lovely, tall spikes of tubular flowers in early summer in pinks and whites. It will tolerate shade and can self sow nicely but not take over a garden.
Hellebore – Lenten Rose flowers in late winter and is always a welcomed sight. Grow in mass groups and as a ground cover in a woodland landscape. See Hellebore for more.
Heuchera Heucherella – can bring color to a shade area and are available in peach, orange, deep purple black, greens and multi colors. Prefers some moisture but not wet feet. See Heuchera for more.
Hostas – Hosta can bring color to a dark area of the yard. They are versatile plants and come in large or small sizes, green, yellow and white colors. See Hosta for more.
---
Shrubs for Shade Gardens
Anise Illicium parviflorum – A shade tolerant,evergreen shrub. Shade tolerant. A shade loving evergreen shrub with brilliant yellow green or deep green foliage. Small red or yellow flowers appear in spring.Anise is the perfect choice for woodland gardens and shady area privacy hedges.
---
Aucuba Aucuba japonica – Aucuba has wonderful bright green leaves heavily speckled with yellow gold it projects an overall yellow green appearance. 'Gold Dust' grows 4-7′ and may be planted in shade yet still remain evergreen. Aucuba Picturata foliage has brilliant yellow centers with green edges and also is shade tolerant.
---
American Beautyberry Callicarpa americana – Not only is beautyberry be useful in a landscape design, it is also wildlife friendly and a best pick for a southern bird garden. In late spring clusters of small pink flowers appear which will attract butterflies and pollinators. In fall the lavender berries provide food source for over 40 species of garden songbirds. This attractive shrub is shade tolerant and can use relief from our hot Georgia sun.
---
Azaleas – A classic flowering shrub for the south. They can come in several colors to suit your personal taste: pink, white, salmon, coral or lavender. Native azalea are also available in bright orange and yellow. While azaleas do need some sun to bloom well they are a great pick for dappled and part shade. See: Azaleas.
---
Buckeye, Bottlebrush Aesculus parviflora – A deciduous native shrub. A shade tolerant plant with show stopping white panicle flowers with conspicuous red anthers during mid summer.Bottlebrush Buckeye has a dense, mounded form and beautiful fall color in bright yellow.
---
Buckeye, Scarlet Red Aesculus pavia – Firecracker plant, red buckeye 12′ -15′. A deciduous small tree. Shade tolerant and will grow in damp or moist areas. Scarlet buckeye has large, showy red flowers in spring which attract early hummingbirds. The unique foliage is a shiny, dark green color.
---
Camellia – Evergreen. Who doesn't love camellias? Hardy and evergreen, camellia can be a stunning specimen plant or spectacular privacy fence in a shady landscape. Camellias can grow to 12′ so be sure to give them some room! There are both spring blooming and fall flowering varieties, for the best effect plant a couple for the different seasons. See: Camellia.
---
Cleyera 'LeAnn' Cleyera japonica – An easy to grow shrub with dark green, glossy foliage with red tips on new growth. Cleyera is drought tolerant and will tolerate shade. Cleyera is acceptable to a hard pruning when needed to keep it in shape.
---
Fothergilla Fothergilla major – Deciduous native. Fothergilla has beautiful, bottle brush shaped flowers with a light honey scent. This shrub blooms in early spring and is a welcomed relief from winter. The foliage is an unusual shell shape that turns bright yellow, red and orange in fall. Fothergilla needs a little shade and moisture to stay healthy and features an open, vase shape.
---
Fatsia – A deep shade loving plant ideal for southern landscapes, Fatsia has shiny green, tropical looking palmate leaves. When it matures it grows into a show stopping shrub for a shade garden.
---
Mophead Hydrangea Hydrangea macrophylla – A hydrangea in bloom is always show stopping, and there are sever varieties which are shade tolerant. Colors can range from white and cream or the pink and blue cultivars. Mophead hydrangea does prefer a well drained soil to avoid root rot but are fairly easy to grow. They grow in an open habit so are best suited for an informal border or as accent shrubs. See: Hydrangea.
---
Oakleaf Hydrangea Hydrangea quercifolia – Deciduous native. Oakleaf hydrangea has a gorgeous, cone shaped bloom which starts out white then fades to a light pink and finely a papery tan. The fall color is eye catching with purple, maroon, red and orange all on a single shrub. As a native shrub, oakleaf hydrangea preforms well in southern landscapes. Varieties can range from 5′ -12′, so choose carefully to fit a space! See: Hydrangea.
---
Itea Itea virginica – Deciduous native. Itea a shade tolerant shrub which is a trouble free, hardy plant for a landscape design. They have an open habit best suited for informal borders, woodland gardens or edges. Like most fragrant shrubs, Itea attracts butterflies. Itea has stunning fall color.
---
Paper Bush Edgeworthia chrysantha – Star Jasmine. Very fragrant, pale yellow to cream white Daphne flowers in late winter. Bloom appear on the branch tips before the foliage in late February when you are ready for winter to finish. Individual flowers on Edgeworthia Paper Bush are tube shaped and highly fragrant. They begin as a bright yellow color which ages to creamy white.
---
Pieris – There is a pieris to suit any size garden, from dwarf cultivars to 8′ shrubs for privacy fences. Pieris blooms in early spring with cascading, bell shaped flowers. Very shade tolerant and hardy, this shrub can handle dry spots if watered well when young. The evergreen foliage makes it a best pick for privacy hedges and border gardens. See: Pieris.
---
Summersweet Clethra alnifolia – Fragrant. Deciduous native, attracts butterflies. Summersweet has abundant, delicate pink or white flower spikes in mid summer. The scent is well carried on a breeze, your neighbors will ask what that wonderful smell is. Summersweet requires a shady spot so it does not burn in our hot summer sun, and prefers some moisture. Fall color is a lovely bright yellow. To attract birds to your backyard, don't trim seed pods until spring and the goldfinch will thank you! See: Clethra Summersweet.
---
Sweetshrub Calycanthus floridus – Carolina Allspice, deciduous. A native understory plant, Sweetshrub is well suited for dappled or filtered shade. In early summer button like, red to maroon flowers appear. Their fragrance is slightly fruity, and a must have for the scented garden. Sweetshrub is easy to grow in well drained soil and drought tolerant once established.
---
Viburnums – Provides multi season interest and some varieties are shade tolerant shrubs. They are show stopping when in bloom. The doublefile and snowball viburnum cultivars will require relief from our southern sun, yet still produce an abundant number of white flowers. Attractive red to blue berries appear later in the season, and the fall foliage is colorful red, orange, maroons and purple. See: Viburnum.
---
Rhododendron – Available in different sizes and colors, rhododendron is suitable for large or small landscapes. They are an old fashioned plant and a long standing tradition in southern gardens. Most are evergreen with large, deep green foliage that looks lush in a woodland setting. Flowers can be white, pink or lavender. See: Rhododendrons.
---
Japanese Plum Yew A low maintenance small tree or groundcover for southern gardens, Japanese Plum Yew has soft needles which are a shiny dark green. Yew is shade and heat tolerant. There are two types of plum yew. One is a small, upright tree while the other is prostate and grows low to the ground and may be used as a groundcover.