Hummingbird Garden Perennials
Agastache Hyssop – also called Hummingbird Mint is a showy perennial which is best grown in sun. Agastache is drought tolerant and produces tall flower spikes and one of our favorite plants for hummingbirds. Agastache is heat tolerant and performs well during out hot Georgia summers. A best choice for a your design.
---
Bee Balm Monarda – Bee balm is another favorite plant for attracting hummingbirds to southern gardens. Bee balm is a herbaceous perennial which flowers in mid to late summer and is available in shades of pink, red and purples. Best in damp, sunny areas of your layout. See: Bee Balm.
---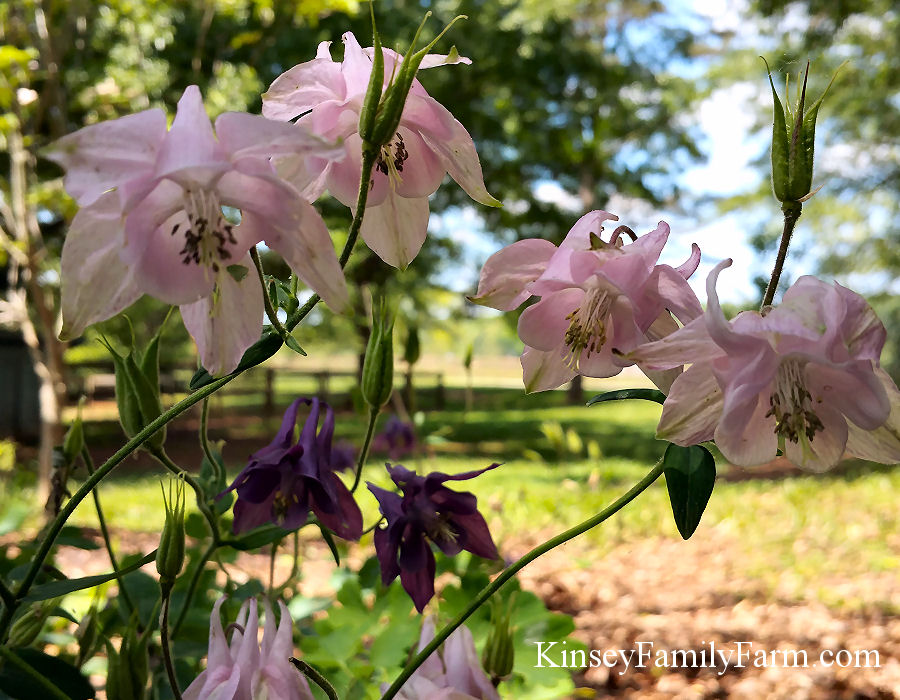 Columbine Aquilegia – A perennial for hummingbirds which blooms from mid-spring to early summer. Columbine has delicate, bell-shaped, spurred flowers and rounded foliage. Colors range from light pastels to orange, red, yellow or purple. Best planted in light shade.
---
Daylily – Perennial daylilies have long, tubular shaped flowers perfect for attracting hummingbirds to southern gardens. They come in a variety of colors from pink, white, yellow to orange. Many are repeat blooming so provide a long food source season. See: Daylilies.
---

Foxglove Digitalis – Foxglove has tall spikes of tubular flowers in early summer and will attract hummingbirds to your backyard. It will tolerate some shade and can self sow but not take over a garden.
---
Gaura – A clump forming perennial to attract hummingbirds to a backyard habitat garden. Prefers full sun and loamy, sandy soils. Pink buds grow on tall, wand like stems. Flowers open to white which slowly fade to pink.
---
Hosta – While usually thought of as a foliage plant the bell shaped flowers on tall stems of hosta are a great way to attract hummingbirds to a shade garden. Some hosta plants can be fragrant which just adds to their charm. See: Hosta.
---
Coral Bells Heuchera – Heuchera is a charming foliage plant which brings color to a shaded landscape but also is a valuable perennial for attracting hummingbirds. Also called foamy bells, the small, bell shaped flowers that rise above the plants on wand like stems are a favorite for visiting hummers. See: Heuchera.
---
Iris – Bearded iris and Siberian iris typically bloom early enough in the season to catch migrating hummingbirds. Having them planted in your yard may even entice these tiny birds to stay and nest in your area. Some are even reblooming. See: Iris.
---
Speedwell Veronica – Perennial veronica is a plant which begins blooming in early summer and will repeat bloom as the season progresses. Spiked blooms can come in pink, white or purple. A best pick for any butterfly and hummingbird garden design.
---
Penstemon Beardtongue – The long, tubular flowers on penstemon, aka beardtongue, are ideal for hummingbird feeding. This plant typically comes in purples or pinks and is always a favorite of the tiny birds. Penstemon is easy to grow. It prefers a sunny location and is drought tolerant once established.
---
Salvia – Salvia is an easy care perennial for sunny garden. Drought tolerant plants which will produce flowers over the summer. Salvia is always a favorite of hummingbirds and will offer them a food source during their nesting season.
---
Scabiosa – Also called pincushion flower, scabiosa is a low continence perennial which flowers from early summer to frost. Pincushion flower thrives in full sun and will be drought tolerant once the plant is established.
---
Verbena – Verbena is a cascading plant which can be used to trail over containers, pots, retaining walls, hanging baskets or window boxes. They can be valuable in containers for attracting hummingbirds to windows or decks. Clusters of flat topped flowers bloom from late spring to frost. Grow in well drained soil in the sun.
---
Yarrow Achillea – Easy to grow, yarrow comes in shades of pink, red and yellow. Foliage is fern like and delicate looking but this is a tough plant for a dry area of the garden. Achillea is also a favorite perennial for hummingbirds to feed from. Prefers sun.
---
Vines for a Hummingbird Garden
Carolina Jessamine Gelsemium sempervirens – A Georgia native vine, Carolina Jessamine has lovely, trumpet shaped yellow flowers in late spring. They are a good pick for a southern hummingbird garden and perfect for planting along a fence or trellis.
---
Confederate Jasmine Trachelospermum jasminoides – A climbing, evergreen vine, Confederate Jasmine is highly fragrant and flowers in late spring just in time to provide a food source as the hummingbirds to arrive.
---
Native Honeysuckle Lonicera sempervirens – A best pick vine for the hummingbird garden design, native honeysuckle has brilliant red flowers and blooms heavily in late spring. During the summer months it will flower sporadically and provide food for hummingbirds during their nesting season. Plant in sun to light shade.
---
Trumpet Creeper Campsis radicans – Blooms during the hummingbird nesting season in summer and has a bright orange color to attract them to your garden.
---
Small Trees and Shrubs for a Hummingbird Garden
Abelia – Abelia is a rugged landscape shrub which grows well in our Georgia heat. It is evergreen to semi evergreen in the south, and during the summer months has an abundance of small, white, tube shaped flowers. Hummingbirds will visit this plant often! See: Abelia.
---
Bottlebrush Buckeye Aesculus parviflora – A beautiful native shrub with large, showy white bottlebrush flowers in summer. Bottlebrush Buckeye is in bloom for several weeks in summer when hummingbirds are nesting. It will give your resident hummingbirds someplace to grab a quick meal while they are busy raising their young.
---
Butterfly Bush – Butterfly Bush is a shrub for attracting hummingbirds and butterflies to southern gardens. They come in a variety of colors and sizes, so one is sure to fit into your landscape layout. Flowering occurs from mid summer to frost, providing food for hummingbirds over an extended period during the season.
---
Summersweet Clethra Clethra alnifolia – A best pick for a hummingbird garden, Clethra is a native plant which grows well in our Georgia climate. It will tolerate shade and prefers moist soil. Summersweet flowers in mid to late summer when little else is in bloom, so can be an important food source for hummingbirds. It is also very fragrant and will scent the area it is in, so be sure to plant it somewhere where you can catch the wonderful smell! See: Summersweet Clethra.
---
Red Buckeye Aesculus pavia – A Georgia native shrub or small tree, Red Buckeye is shade tolerant and blooms in late spring just as the hummingbirds arrive. The tall, scarlet red flowers attract them from a distance. Great in a woodland garden or shady area of the yard.
---
Chaste Tree 'Shoal Creek'
Vitex agnus-castus Chaste Tree 'Shoal Creek' 12′ – 15′, summer lilac tree, lilac chaste tree. Vitex Chaste tree is an attractive small tree which blooms in dense clusters of fragrant pale purple flowers. Bloom over an extended season during the summer months when little else is flowering and offers hummingbirds food. A great idea for hummingbird and butterfly habitat.