The Kinsey Family Farm plant nursery has an assortment of perennial hosta plants and other perennials available for sale. Supplies are limited! Hosta are great plants for brightening your light to moderate shady areas in the garden and make wonderful companion plants with different perennials such as the showy color variations of Heuchera, a multitude of fern varieties, as well as Hellebores and Astilbe. And as you will see below recent efforts with breeding programs have really created a wide variety in color, size, and flowering in the Hosta community! So many "MUST HAVES" with this species now! Grow in part shade, full shade and part sun.
---
Small and Miniature Hostas Plantain Lilies
'Autumn Frost' Hosta – 10-12″ mid to small size, a Proven Winners plant. Autumn Frost is a colorful hosta forms a of showy, frosty blue leaves with extra wide, bright yellow margins. Over the season the edge color changes to cream white. Flowers are light lavender.
---
'Blue Mouse Ears' Hosta – 18″ mini, small size. Blue Mouse Ears is a dainty miniature with small, blue green foliage and lavender flowers. Leaves are thick and have a round shape, the plant forms an almost perfectly symmetrical mound and the flowers are white and bell shaped. A best pick for growing in a container, rock garden or miniature garden. The Blue Mouse Ears variety is an easy care perennial for shade where it will keep a good, silvery blue color. With more sun it will be a greener shade. Blue Mouse Ears is a favorite dwarf among hosta enthusiasts.
---
'Cherry Berry' Hosta – 10″ x 26″ small. Colorful, lance shaped foliage has a white center and dark green margins. The center is a golden yellow in early spring which will change to white later in the summer. Flower stems are cherry red topped with very erect bright violet blooms. Cherry Berry will shine when planted with red flowering perennials which will highlight the wonderful red scape tones. In the fall the seed pods are cherry red. The dwarf form makes it suitable for the front of a shady garden or as a small accent plant. One of our growers favorites!
---
'Curly Fries' Hosta – 10″ Hosta of the Year 2016. Curly Fries forms an arching, wavy clump of narrow, rippled leaves in a beautiful chartreuse green. The color develops best when planted in morning sun. In mid summer Curly Fries has lavender flowers. This small hosta is perfect for planting in pots, container gardens and small garden spaces.
---
'Lakeside Cupcake' Hosta – 5″ small. Lakeside Cupcake has lavender blooms in spring. The leaves are slightly cupped with gold centers and a green blue margin. In spring they will start out with an almost round shape which will become more pointed and cupped into the season. As summer progresses the center color changes to white with blue margins streaked with green in between the two. Lakeside Cupcake is best planted where it receives morning sun and some relief from our hot, Georgia afternoon sun to avoid burning in the later part of the summer.
---
'Lakeside Paisley Print' Hosta – 10-12″ mid to small size. Lakeside Paisley Print has heart-shaped leaves with wavy green margins. 'Lakeside Paisley Print' makes a wonderful plant for container gardening.
---
'Rainforest Sunrise' Hosta – 2013 Hosta of the Year 8″ x 16″ small. The slightly cupped and highly corrugated leaves of Rainforest Sunrise have golden centers with narrow green margins. The bright summer color coupled with its compact height makes this an easy perennial to situate throughout the garden! Foliage will emerge a light chartreuse green in spring and quickly develop bright, golden centers with darker margins. Color deepens later in the season, a true chameleon for dappled shade. White to very pale lavender blooms. A best choice for container gardens. Light sun tolerant.
---
'Waterslide' Hosta – 15″. Proven Winners Shadowland Collection. Waterslide is a beautiful blue leaf hosta with heavily ruffled edges. The blue, wavy leaves on Waterslide retain their color well during the season. Lavender flowers.
---
Mid, Medium Size Hostas Plantain Lilies
'August Moon' Hosta – 20″ x 40″ medium large. A tried and true classic, August Moon is one of the oldest hosta cultivars. It is a medium size plant with large, golden yellow leaves. Fast growing and can create beautiful texture in a perennial garden. August Moon is one of the better chartreuse variegates for holding good color in the sun but like most sun tolerant varieties would prefer some shade during the hottest part of the day.
---
'Abiqua Drinking Gourd' Hosta – 2014 Hosta of the Year 22″ x 24″ medium large. Leaves matures to deep cup shape. Very unique with huge, blue green foliage which is heavily textured. The leaves will form a cup and twist into a unique display. After a rain Abiqua Drinking Gourd will collect small pools of water in the deeply cupped leaves. Shade loving, a best pick for a shady area in Georgia gardens. White flowers bloom mid summer. Requires shade and sufficient moisture. Prefers deep, fertile soil to preform at it's best.
---
'Ben Vernooy' Hosta – 16″ x 28″ Ben Vernooij medium mid size. This tetraploid sport of First Frost has resulted in thick, blue green leaves with wide creamy yellow edges. Margins open in spring a bright yellow and change to a creamy ivory later in the season. A good selection to brighten a shade border or perennial garden. Flower color on Ben Vernooy is a light lavender on tall, elegant scapes. An easy care, slug resistant variety.
---
'Coast to Coast' Hosta – 30″ x 36″ medium large. Proven Winners Shadowland Collection. A striking hosta plant which forms a giant mound of puckered, thick, gold foliage with a distinct wavy edges. Gold color on Coast to Coast will be more pronounced if given morning sun. Flowers are pale violet.
---
Shadowland 'Diamond Lake' – 17″. A Proven Winners plant. 'Diamond Lake' has green with a blue tint leaves. Foliage is thick, heavily corrugated leaves with wavy margins.
---
'El Nino' Hosta – 14″ x 39″ In spring, El Nino has attractive blue green leaves with yellow edges. As the season progresses, this perennial plant will be green with pure white margins. El Nino has lavender flowers mid to late summer.
---
Elegans Hosta – 30″ x 30″ medium large. A handsome plant for your shade garden with striking, seersucker foliage in blue green metallic. Elegans will attract attention in your landscape design or plant in pots for a patio container garden.
---
'Fire and Ice' Hosta – 20″ x 30″ medium large. Fire and Ice has a pure white center leaf with deep green border, the foliage is pointed and slightly twisted. The dark green coloring on the edges contrasts beautifully with the white centers to really stand out in a perennial bed or shade border. It is the counterpart to Patriot. Fire and Ice tends to have a more upright shape than other types and looks stunning when planted in mass. Does well in our Georgia climate. Flower is lavender purple with white scapes and seed pods.
---
'Fire Island' Hosta – 12″ small to mid size cultivar with brilliant golden yellow foliage. The leaves accented by red petioles which continue into the base of the leaf. A wonderful shade perennial, Fire Island is a perfect compliment when planted against dark green shrubs.
---
'First Frost' – 2010 Hosta of the Year 16″ x 28″ medium. This sport of Halcyon has intense blue-green leaves with creamy yellow margins in spring which fade to white by summer. First Frost was named because it holds its beautiful foliage extremely well right up until the very first frost! Light lavender flowers bloom in mid summer.
---
'Fragrant Bouquet' – 20″ x 34″ medium large, 1998 Hosta of the Year. Lush apple green leaves on Fragrant Bouquet have a wide border of cream to pale yellow margins. In mid summer very fragrant white flowers appear on tall scapes.
---
'June' – 2001 Hosta of the Year 15″ x 20″ small to medium type. Leaves with a chartreuse center and blue green edges. June is a gardener's favorite due to its extreme durability and ability to handle light sun.
---
'Minuteman' Hosta – 22″ x 30″ medium large type. This improvement of Patriot (1997 Hosta of the Year) has cup shaped foliage which is mid-green with a creamy white margin. Ideal for adding exuberant color to shady gardens. The leaves on Minuteman have an attractive, satiny finish. In late summer large, funnel shaped, pale lavender flowers appear on short stems just above the foliage. Light sun tolerance.
---
'Praying Hands' – 2011 Hosta of the Year 20″ x 30″ medium. Praying Hands is a very unique hosta with tall, straight up narrow leaves which fold together to resemble praying hands. It forms a large clump of erect foliage and looks great in a container under planted with other cascading perennials such as Creeping Jenny. The look is quite different and will stand out! Foliage is a dark green which will sometimes develop a thin creamy border. Lavender flowers.
---
'Remember Me' Hosta – 15″ x 25″ mid to small size. Sales of 'Remember Me' Hosta help fund the Susan G. Komen For the Cure Foundation. This hosta is a Walters Garden introduction for an employee who lost her fight with the disease in 2001. Foliage emerges colorful yellow with blue margins in spring. Where the edges and center meet is a lighter green.
---
Stained Glass – 2006 Hosta of the Year 15″ x 30″ Fragrant, medium large hosta. Stained Glass is a sport of the Guacamole (2002 Hosta of the Year). It possesses a brighter variegation with a wide dark green margin. Variegation appears early in the season resulting in prominent veins throughout the foliage which gives this perennial the appearance of stained glass. Fragrant pale lavender blooms.
---
Sunset Grooves Hosta – 12″. Golden green foliage with wide green margins. Mature leaves cup slightly.
---
Sugar Daddy Hosta hosta – 20″ x 30″. A mid size variety, Sugar Daddy has slightly cupped leaves which are very thick and corrugated. The leaf color is powder blue with yellow margins that will lighten to creamy white later in the season. Flowers are white. Sugar Daddy is a best choice for slug resistance.
---
Vulcan – 18″. Bright white foliage with dark green margins. Vulcan has lighter green streaks between the margin and leaf center.
---
Wolverine Hosta – 18″. Long blue leaves with a wide golden yell0ow margin. During summer, the edges of Wolverine will turn a creamy ivory.
---
Large and Giant Hostas Plantain Lilies
Brother Stefan – 24″. Forms a large mound. Leaves on Brother Stefan have gold centers with an irregular dark green margin. Foliage is thick and heavily corrugated leaves
---
Blue Angel Hosta – 2 1/2′ – 3′. Blue Angel is a giant hosta selection with huge leaves which will retain its blue color very well. It is a giant hosta type which will form a large mound perfect as a specimen plant. Leaf petioles on Blue Angel stand upright to hold the leaves horizontally, so the leaf will cascade down to form an elegant mound of foliage. Slug resistant, shade loving.
---
Dancing Queen Hosta – 22″ x 40″. Spring color on this hosta is bright yellow green. The edges of Dancing Queen are ruffled and add texture to your garden. Needs a little sun to hold the chartreuse color.
---
Dream Queen Hosta – 28″ x 60″ large, giant variety. A beautiful variety which has nearly round, blue green leaves and a white cream center. Foliage is lightly corrugated. Dream Queen is a best pick for under plantings or as an accent. Slug resistant. Can handle light sun with sufficient water but prefers shade.
---
Empress Wu Hosta – 4′ x 5′. The world's largest hosta. 'Empress Wu' is a large, medium green, shade loving perennial known for it's large leaves. As the world's largest hosta, Empress Wu will make a dramatic statement in a shade garden. A must have for the plant collector. Flowers are lavender pink.
---
Earth Angel Hosta – 2009 Hosta of the Year 30″ x 40″ giant. Large heart shaped blue green leaves with a creamy white margin and pointed tips, Earth Angel forms a stunning, large clump. The cream margin will grow wider as the plant gets older. Has been recorded growing to outstanding clumps up to 5 feet across! A sport of Blue Angel with pale lavender blooms. Shade tolerant.
---
Guacamole Hosta – 2′ x 4′ Fragrant, giant hosta. Leaves have an apple green center bordered by dark green margins. One of our favorite of the large types for both color and fragrance. Flowers on Guacamole are large and white. Prefers shade.
---
Guardian Angel Hosta – 28″ x 38″ large. Unique giant hosta has ruffled leaves which emerge a blue green color with an ivory center in spring. Later in the summer the foliage on Guardian Angel turns almost completely blue green. Shade to dappled shade.
---
Liberty Hosta – 28″ x 58″ large. Thick green leaves with a wide yellow margin, Liberty is a lovely giant hosta that will brighten up a shade garden. Occasional light cream tones run through the textured leaves. Light sun tolerant.
---
Olive Bailey Langdon Hosta – 3′ – 5′ Giant large size. Dark green foliage with wide light green margins. Leaves on Olive Bailey Langdon cup slightly, and feature wavy margins. The foliage has a deep, corrugated texture. Olive Bailey Langdon is an improved version of the Frances Williams hosta. It is resistant to the spring dessication that Frances Williams can suffer from. Perfect for a woodland planting.
---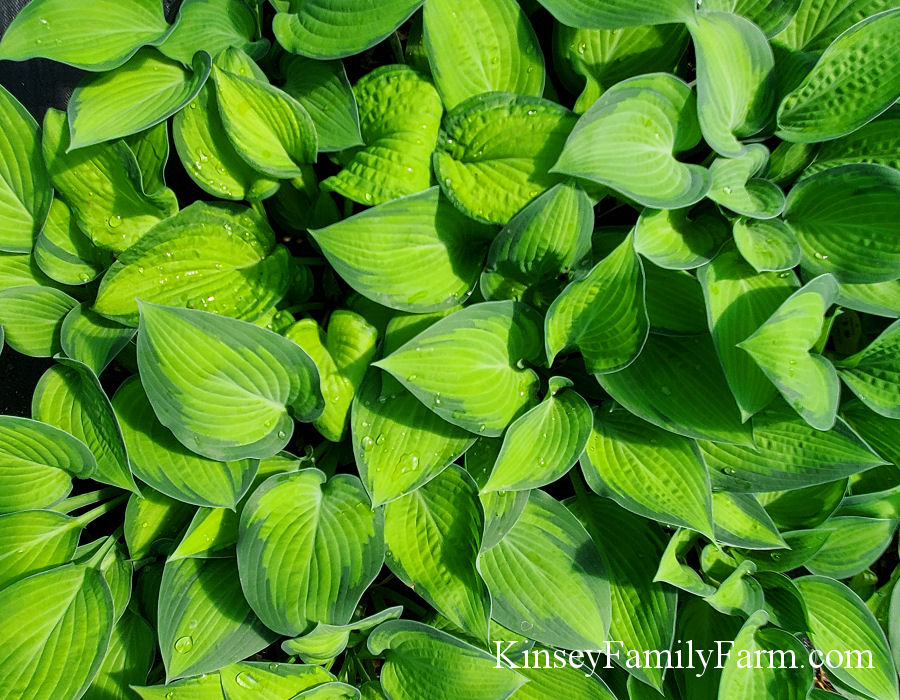 Paul's Glory Hosta – 25″ x 55″ Hosta of the Year 1999. A classic large growing hosta best known for its gold and green foliage. In spring the leaves have wide chartreuse center markings surrounded by bright green. Foliage on Paul's Glory matures to a bright yellow center and deep green edges. Flowers are lavender on tall scapes.
---
Regal Splendor – 2003 Hosta of the Year 30″ x 70″ giant plantain lily. A tall variety with wavy, cream colored edges on frosty blue leaves. This hosta has an unusual, upright shape as leaves sit on tall stems and will stand out in a garden. Regal Splendor is best when planted in a shady location. Flowers on Regal Splendor are a delicate pale lavender pink.
---
Sagae Hosta – 2000 Hosta of the Year 30′ x 70″ with an unusual, upright form, Sagae is a wonderful plant for the shade perennial garden or wooded area. The large blue leaves have variations of creamy white on the edges. Slug resistant, light sun tolerant.
---
Seducer Hosta – 26″ x 36″ medium large. Proven Winners plant Shadowland Seducer. This hosta grows into a large mound of dark green foliage that has a gold to chartreuse margin and a trace of white between the center and margin.
---
Spartacus Hosta – 24″. Leaves on Spartacus are have a heavily rippled, have green centers and a gold border.
---
Victory – 2015 Hosta of the Year 35″ x 70″, a sport of nigresens Eliator. Big leaf. Victory has shiny, medium green foliage with wide cream colored edges. The margins are wavy and the large leaves are heart shaped. The bright color of Victory is a best pick for shady spots in your yard. Slug resistant.
---
Shadowland 'Wu-La-La' – 36 – 48″. A Proven Winners plant. Giant hosta similar to Empress Wu except with apple green margins.
---
Perennial hosta plants for sale in our plant nursery garden center are subject to change.