Perennials for the Scented Garden
Dianthus – Pinks. Dianthus, also called pinks, is a lovely fragrant perennial which can be used as a front of the border plant. They come in pink, white and red colors and will provide a surprising amount of scent. Plant in full sun for best flowering.
Hosta – There are some hosta varieties which can be surprisingly fragrant and will grow well in Georgia gardens. Not only will hosta offer colorful foliage for a shady spot, they will also scent the air around your home. See: Hosta.
---
Iris – Fragrant perennial. Several of the bearded iris varieties have a sweet, gentle scent which carries well on the breeze. Not only do iris provide beautiful color and large blooms for a southern garden, the smell wonderful! See: Iris.
Peony – Fragrant perennial. A classic flower which has long been a gardener's favorite. Huge blooms with a heavenly fragrance, perfect for cut flowers. Peonies will grow well in the south in either sun or light shade. See: Peonies.
---
Vines for the Scented Garden
Clematis 'Snowdrift' – Evergreen Clematis armandii. White, fragrant blooms from late winter to early spring. Profuse, pure white flowers and evergreen foliage. Grows well in sun or open shade.
Carolina Jessamine Gelsemium sempervirens. Native. Evergreen vine. Carolina Jessamine is a classic southern vine. You can grow it in full sun along fences, over walls, up buildings or along porch rails. Heavily perfumed, your neighbors will know when the Carolina Jessamine is in bloom. Yellow trumpet shaped flowers appear in spring with sporadic blooms during the summer.
Confederate Jasmine Star Jasmine. A rapidly growing, evergreen vine. In spring and early summer Confederate Jasmine is covered in small, white flowers which are HIGHLY fragrant. The blossoms resemble small, periwinkle shaped stars. Confederate Jasmine has a twining habit and will grow easily through a trellis or chain link fence.
---
Fragrant Shrubs
Illicium parviflorum Anise for fragrant foliage. Shade tolerant evergreen shrub. A shade loving evergreen shrub with brilliant yellow green foliage. Anise is a best pick choice for woodland gardens and shady privacy hedges. The bright foliage really shows up in a wooded setting and can be valuable as a contrast plant against darker greens in any landscape design.
Native Azaleas deciduous shrub. have a well earned reputation for fragrance. When in bloom, the scent carries throughout a garden. Once you experience them in flower, you will want three more! They can be picky about growing conditions and do best in a moist, shady spot in the landscape. Be sure you plant native azaleas in a well drained area, while they appreciate the water they won't tolerate wet feet. See: Native Azalea.
Butterfly Bush Butterfly bushes are available in several varieties for any size garden. They are for sale in dwarf bushes or as large shrubs for the back of a border. Butterfly bush is lightly fragrant and will attract hummingbirds and butterflies to your yard. Flower colors range from pink to purple to lavender and fuchsia. See: Butterfly Bush.
Fragrant Tea Olive. Evergreen shrub. Easily grown in a well drained, sunny site, Fragrant Tea Olive can be used as an effective privacy hedge. This plant is very fragrant and will fill a garden with scent. You will be able to smell the perfume on the breeze. Fragrant Tea Olive is not very fussy but does need to be well watered when young . . . just don't drown it.
Paper Bush Edgeworthia chrysantha Star Jasmine. Very fragrant, pale yellow to cream white Daphne flowers in late winter. Bloom appear on the branch tips before the foliage in late February when you are ready for winter to finish. Edgeworthia Paper Bush individual flowers are tube shaped, starting out a bright yellow then aging to creamy white.
Gardenia evergreen shrub. A classic plant for the scented garden, gardenias produce highly fragrant, white flowers in summer. Sizes depend upon the cultivar you choose, they range from 2′ – 5′ tall. Newer varieties tend to be repeat blooming. Gardenia is shade tolerant and prefer moist but well drained soil. See: Gardenia Varieties.
Lilac 'Excel' '. Finally a lilac bush which will grow well in southern gardens. Early blooming with large, lilac colored flower spikes which will scent up your yard, 'Excel' lilac bushes will tolerate our Georgia heat. Lilacs are always lovely in mass plantings as a border or hedge, or as a stand alone shrub in the back of the border. Lilac is a must have for the old fashioned cottage or scented garden.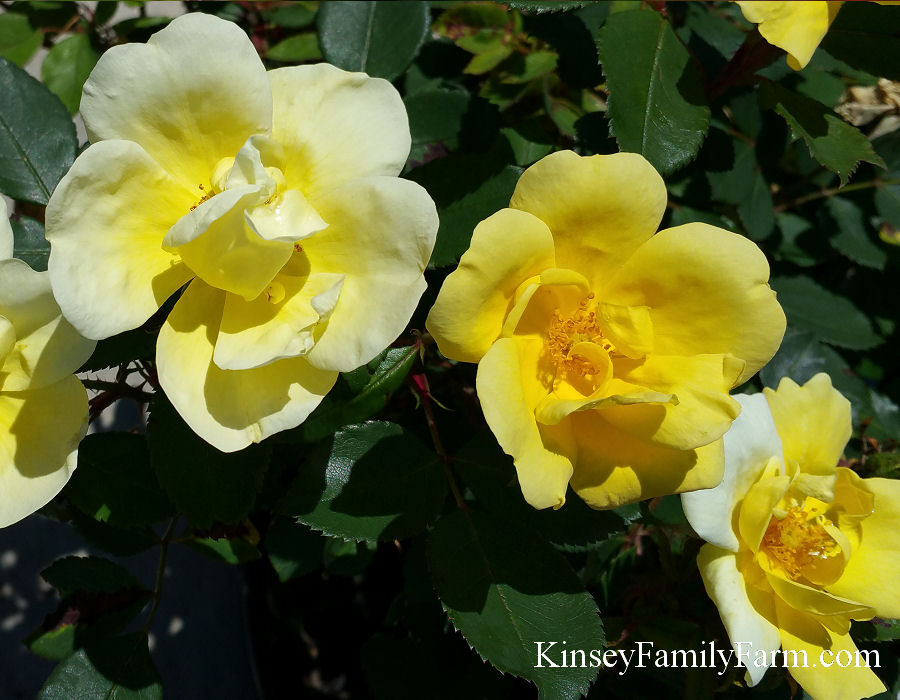 Knockout Rose 'Sunny'. Yellow petals turn a cream color as they mature. This is a fragrant knockout! It is the first yellow Knockout, and the first to have a classic rose scent! Buds open to golden yellow then turn to a soft buttery hue. 'Sunny' holds its color best with some shade.
Summersweet deciduous native shrub. Highly fragrant and attracts butterflies. Summersweet has delicate pink or white flower spikes which bloom in abundance. The scent is well carried on a breeze, your neighbors will ask what that wonderful smell is. Summersweet does best in a shady area during the afternoon so it does not burn in our hot summer sun, and prefers some moisture. Blooms in mid summer to provide a landscape with flowers when little else is in bloom. Fall color is a lovely, bright yellow. Don't trim until spring but leave the seed heads on the plant in wintertime and the goldfinch will thank you! See: Clethra Summersweet.
Carolina Allspice, Sweetshrub native deciduous shrub. A native understory plant, Sweetshrub has button like, red to maroon blooms in early summer. The scent is somewhat fruity, Sweetshrub is a must have for the fragrant garden. It is easy to grow in well drained soil and drought tolerant once established. Sweetshrub does prefer some relief form our hot Georgia sun.
Lindera benzoin Spicebush 6- 12′. Spicebush adds value to a fragrant garden due to the aromatic, spicy scented leaves. Blooms in early spring. Spicebush is dioecious with male and female flowers on separate plants. Flowers of female plants will produce bright red drupes in fall that attract to birds. Good fall color of yellow and orange. Spicebush leaves are aromatic.
---
Viburnum' Mohawk', Pearlific Viburnum and Korean Spice viburnum are a few of the scented viburnum shrub varieties we carry in our garden center. Late spring blooming viburnums can offer a landscape a surprising amount of scent. 'Mohawk' and Pearlific are both known for being fragrant shrubs and they are easy to grow as well. They provide lovely white flowers in late spring, beautiful berries in red to blue, then a pleasing fall color. Hardy and dependable, 'Mohawk' and Pearlific will grow in full sun and are drought tolerant once established. See: Viburnums.
Southern Wax Myrtle for fragrant foliage. Bayberry, Southern Bayberry, Candleberry, Wax Myrtle Semi-evergreen shrub or small tree 20′. Foliage has a spicy fragrance. Semi-evergreen, southern wax myrtle may be planted as an informal hedge on a property edge or grown as an accent tree. It makes an interesting tree with a unique leaf shape. Will tolerate poor soil and is useful as a hedge in difficult areas. Non-showy flowers attract pollinators and fruit is eaten by birds.
---
Trees for the Scented Garden
Arizona Cypress evergreen tree for fragrant foliage. Conical shaped conifer with aromatic blue gray needles. An attractive landscape tree for a fast growing privacy screen or as a medium to large specimen tree. The unique color of Arizona Cypress makes a dramatic back drop or focal point in any landscape. Arizona cypress does like moisture but requires well drained soil. Drought tolerant once established. Prefers full sun.
Vitex agnus-castus Chaste Tree 'Shoal Creek'', lilac chaste tree, summer lilac tree. Vitex Chaste tree is an attractive small tree with dense clusters of fragrant lavender purple flowers. Blooms over an extended season during summer. Scented flowers attract hummingbirds and butterflies.
Magnolia. When it comes to the fragrant garden, the magnolias are a must. They range from our classic southern magnolia trees which are evergreen and summer blooming to the deciduous star magnolias which bloom in spring. The scents are quite different on each. Sweetbay has a lemony fragrance where the southern and star magnolias are more of a perfume scent. See: Magnolia Trees.
Mountain Gordlinia 'Sweet Tea'
X Gordlinia grandiflora Mountain Gordlinia 'Sweet Tea' 30′. A hybrid which combines the best traits of Franklinia alatamaha with those of Gordonia lasianthus, Loblolly Bay. Large, slightly cupped, white flowers have a bright yellow center. Leaves are rich orange and red during fall. Semi-evergreen, Mountain Gordlinia 'Sweet Tea' prefers morning sun with afternoon shade to provide a little relief from the afternoon sun. Mountain Gordlinia 'Sweet Tea' is a unique plant for collectors. If you have ever wanted to grow a Franklin tree but have not because they are difficult, Mountain Gordlinia is an ideal alternative.
Cladrastis kentukea American Yellowwood. Deciduous medium size tree., native. Wisteria like, foot long flower clusters droop from branches. An underused ornamental tree, American Yellowwood is native to the southeastern United States. Dramatic flowers appear in late spring and early summer. Fall color is an attractive yellow color. American Yellowwood is slow to mature and can be a GREAT pick for smaller landscapes.