Landscape Plant Nursery and Garden Center
Our Nursery Offers Diversity
Our nursery offers a large variety of landscaping and gardening trees, shrubs, and perennial plants! Our selection is constantly shifting as the seasons change . . . which helps make each visit different than the one before! While we do include several commonly sought after plants, including flowering dogwoods, azaleas and blueberries, we also try to include a substantial variety of native plants as well (i.e. – viburnum, fothergilla, sweetspire, 'winter red' holly, serviceberry, etc). Careful garden designing and selection of some of these plants can increase your privacy, attract wildlife into your area, and most importantly make your yard a much more enjoyable place to visit.
In addition to growing shrubs and perennials in our nursery, the farm annually produces around 4,000 trees of our own. We have our main farm location which is open to the public, along with two additional local satellite farms for growing trees and shrubs. The Kinsey Family Farm plant nursery also has greenhouses where we grow perennial plants. Our selection has grown to include numerous evergreen and coniferous varieties, several flowering tree species, and an outstanding collection of new cultivars . And we have our gardening eyes set on several new scintillating varieties of trees that have yet to be released!
Be the first to know!!! The Kinsey Family Farm is on Facebook at Kinsey Family Farm and Twitter at KinseyFarm. Announcements regarding farm events, nursery information and trees for sale, fall harvest updates, and Christmas tree season specifics will be made via this social media outlet first . . . as well as periodic comments on farm living . . . good, bad, & ugly!
Kinsey Family Farm Plant Nursery is pick up only. We do not do mail order or ship.
We are a retail plant nursery and open to the public.
---
Perennials, Grasses, Ferns
Our perennial plant selection in our nursery is constantly expanding. We grow our own in our local greenhouses and we are constantly trying new selections and cultivars to offer a wider variety of perennials for home gardens. We also supply decorative and ornamental grass.
Agastache
Blackeyed Susan
Bee Balm
Bleeding Heart
Coreopsis
Coneflower
Dianthus
Foxglove
Hellebores – Lenten Rose
Hens and Chicks
Ice Plant

Lantana
Rudbeckia
Salvia
Scabosia
Sedum Stonecrop
Shasta Daisy
Speedwell Veronica
Verbena
Thyme
Yarrow
Groundcovers
Ajuga
Creeping Jenny
Creeping Raspberry
Deadnettle
Liriope – Green, Variegated

Mondo Grass – Dwarf, Black
Phlox
Scotch Moss
Vinca
Ornamental Flowering Shrubs & Bushes
We offer ornamental flowering shrubs to both retail customers for do it yourself backyard landscaping plants for professional or commercial landscape services. This is small example of our nursery's inventory of flowering bushes. We carry dwarf and small shrubs for small space gardens design and privacy shrubs for hedging and fast growing flowering bushes perfect for front yard landscaping. Kinsey Family Farm is sure to have plants to meet your garden needs!
A sample of shrubs for sale in our nurseries:
Anise
Aucuba
Beautyberry
Blueberry Plants – Fruit
Bottlebrush Buckeye
Falsecypress
Forsythia
Fothergilla
Fragrant Tea Olive
Hawthorn Bushes
Itea

Mountain Laurel
Nandina
Paper Bush Edgeworthia
Spicebush
St. Johns Wort
Sweetshrub Carolina Allspice
Witch Hazel
Yucca
Deciduous Shade Trees, Flowering Trees
Kinsey Family Farm has a wide variety of trees for sale and we offer plants for retail customers. From fast growing deciduous shade trees, weeping trees for front yard landscaping, privacy trees, dwarf varieties for small space gardening to ornamental flowering specimens. A sample of deciduous trees for sale in our nurseries:

Birch – River Birch
Bald Pond Cypress Tree
American Beech
Black Gum Tupelo
Carolina Silverbell
Chastetree
Crabapple Trees
Fig Trees – Fruit
Contorted Filbert

Fringe Tree
Ginkgo
Hornbeam
London Plane Tree
Ornamental Peach
Persimmon – Fruit
Ornamental Plum
Red/Scarlet Buckeye
Serviceberry
Tulip Poplar
Willow Tree
Yellowwood
Conifers, Evergreen Screening Privacy Hedge
Aucuba
Anise
Cleyera
Fragrant Tea Olive
Ligustrum Privet Recurve
Wax Myrtle
In addition to the plants provided in our garden center nursery, our farm also produces over 20,000 of its own trees. As our fields mature this selection will begin including some outstanding and unusual varieties of trees. Some of our present selection includes a multitude of evergreens including 'Blue Ice' Cypress, Deodar Cedar , Cryptomeria, 'Green Giant' Arborvitae, Italian Cypress, 'Carolina Sapphire' Cypress, and many more!
---
Garden Decor! Outdoor Water Fountains! Planters! Statues!
At the farm you will find outdoor decorative accents. We carry garden statues, wooden Adirondack furniture, water fountains, garden tables and benched along with a selection of arbors and trellis.
Wood Outdoor Furniture
The Kinsey Family Farm Garden Center now carries quality outdoor wooden furniture for your patio, deck or front porch. We have:
Adirondack Chairs
Bench Seating
Porch Swings – with or without A-Frame
Rocking Chairs
Tall Bistro Chairs
Tall Bistro Tables
Wood Side Tables
Visit our Wood Garden Furniture for a selection.
---
Garden Supply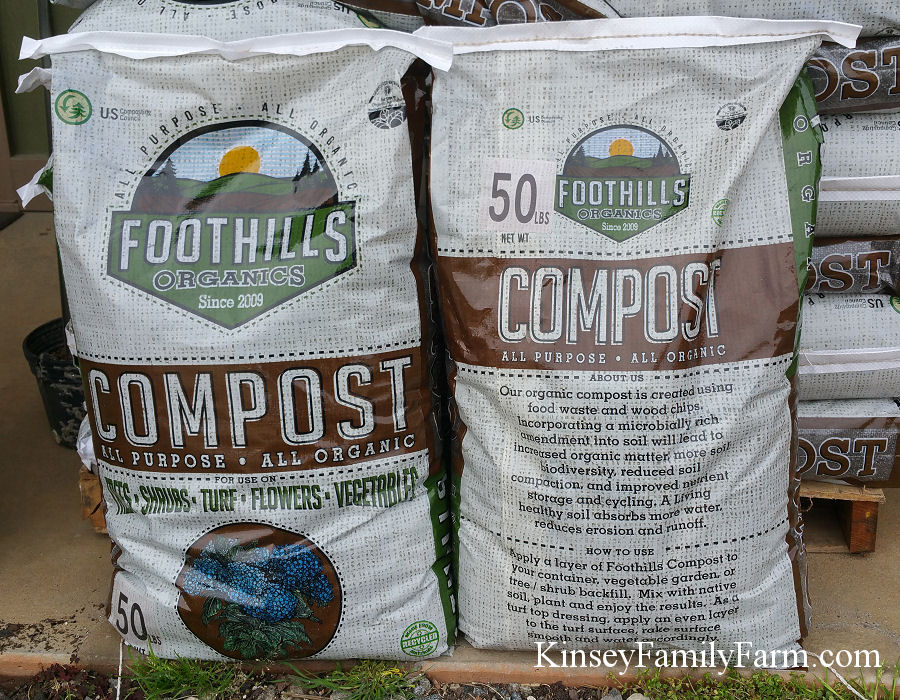 Our garden center carries bagged garden supplies. This includes:
Compost- Organic Compost
Mushroom Compost
Fertilizer
Soil Conditioner
Soil Builder
Potting Soil
Bagged Bark Mulch – black, brown, red
Pine Mini
For details, please visit Garden Supplies.
---
Landscape Rocks and Stones
Kinsey Family Farm carries a selection of landscaping rocks for the retail, residential home gardener. For the DIY home stonescaping or landscaping projects we have:
Stack Stone – Thin stack, medium stack and long thick stack fieldstone.
River Rock – Small, medium and mixed size river rocks.
Boulders – One man, two man and three man boulders.
For details, please visit Landscaping Rocks and Stones.